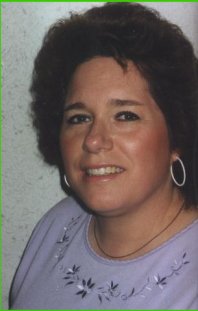 TNT*Danger
aka: Ms. TJ
ICQ: #28779807
Email: pammyers@mhtc.net
DOB:12/18/53
General: (What makes me tick) my pace maker, LOL, j/k
What bomb factory built you?? I was born and raised in beautiful Prairie du Chien, Wi.. on the Mississippi River, and am still living here many many years later... LOL. Maybe when I grow up, I will move, but not for now, I'm happy here :)
Favorite Acro Room: 40 Something
Most Often Used Acro Word: Sunset, really, awesome, those kind of words
Favorite Acro Topic: Music or Animals
Favorite CouchRules Topic: Why isn't Santa bringing you any presents this year?
Explosive Favorites:
Holiday: Christmas, cuz my kids all come home, and my sisters.. I always have a BIG housefull... and so much fun!
Food: Pizza, and seafood
Vacation Spot: Wis. campgrounds
Color : I love green, but partial to black, too
Lucky Number: Whatever my age is... cuz I feel happy to be alive.
Pasttime: Being on the internet, chatting with friends, and/or playing games, especially Acro. Also visiting with my sisters, they are so much fun to be with:)
Quote: We are part of a fire that is burning, and with the ashes we build another day.
Book: anything by Dean R. Koontz
Personal:(What makes you tick?)
Family: I'm divorced, and I have 3 WONDERFUL sons, Chuck.. 27, who is married to Jen, lives in Atlanta,Ga.. (no grandkids yet)... Jesse, who is 25 and lives with his girlfriend, Tina, in Fond du Lac, Wi., and my best little buddy... Marty who is 13, and keeps me busy because unlike me, he has a life, so I am his chauffeur, LOL!
Pets: I have 4 cats (at times it seems like 14, hehe) their names are, Cally, Shadow, Sassy, and Toby. They are the greatest!
BombMobile: I drive a Silver Lumina... try to keep it at 55, but....
Most appealing habit: I am a helpful person :)
Most annoying habit: I talk to much, LOL!!
What makes you laugh: My family, especially my wonderful mom and my kids, my sisters and brothers, my friends, and my crazy pets. ( I am easily amused!) oh, and funny jokes, so be sure to send me some:)