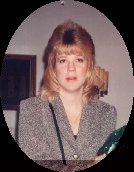 TNT*Grenade
(Co-Captain)
aka: my2sons
ICQ:63444300
Email: hassan14@frontiernet.net
DOB:12/11
General: The scent of lilacs or apple pie baking
What bomb factory built you?? Acme(beepbeep)
Favorite Acro Room: 40's & Coffee Shop
Most Often Used Acro Word: Rosannadana
Favorite Acro Topic: Food & Drink
Favorite CouchRules Topic: What's under your bed?
Explosive Favorites:
Holiday:4th of July
Food: Seafood & Salad
Vacation Spot: Bermuda
Color:Blue
Lucky Number:11
Pasttime:Gardening I love anything to do with horticulture
Quote: "God made the dirt & the dirt don't hurt"
Book:anything by Kurt Vonnegut
Personal:(What makes you tick?)
Family:2sons 6&9 and a great hubby
Pets:Mischief, a greyhound we rescued, Lurch, a leopard tortoise, Tootsie a guinea pig, a 30 gallon aquarium of 'nice' fish, the aggressive ones had to go lol....
BombMobile: Subaru Outback
Most appealing habit:Nurturing everyone & anyone
Most annoying habit: Screaming my head off
What makes you laugh: TV show, "Who's Line is it Anyway?"